COURSES
Hospitality is very important for us at Casa di Puglia.
On the first day of the course, from 08.30 to 09.00, there will be a moment to Welcome our guests, to introduce you to the house, the staff and the course program; there'll be a welcoming aperitif, the delivery of the didactic material and socializing with the other students.
The principal elements of our Italian courses:
REGISTRATION FEE 50,00 Euros
This includes:
- Membership card
- Accommodation searching service
- Transfer from / to Ostuni railway station,from 8.00 a.m. to 7.00 p.m.
- Assistance during the stay and some freetime activities with the teachers
- Informative Material about Ostuni and the cultural events during your stay
The courses can be:
Standard

(10 hrs per week-2 hrs per day)

Intensive

(20 hrs per week-4 hrs per day)

Individual

(by arrangement).
PRICES
STANDARD

(Michelangelo)

INTENSIVO

(Cristoforo Colombo)

INDIVIDUALE

(Dante)

1 week

€ 180

1 week

€ 280

1 h

€ 30

2 weeks

€ 320

2 weeks

€ 520

3 weeks

€ 440

3 weeks

€ 720

4 weeks

€ 560

4 weeks

€ 880

extra week

€ 100

extra week

€ 180
The course price includes:
- entry test
- didactic material
- attendance certificate
- traditional "snack of the House"
- educational visits
It is also possible to start on request, preparation courses for CELI exams (Certificate of proficiency in italian from Perugia University) and CILS exams (Certificate of proficiency in italian from Siena University);
We offer courses in italian for legal purposes, for music, cinema and the arts and other courses in italian for specialised purposes.

The price for these courses is 30 euros per hour.
For more information please contact the secretary.
CALENDAR 2018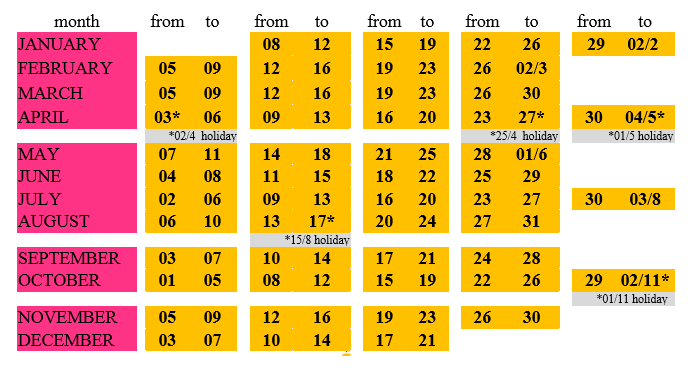 CALENDAR 2019